On Wednesday, October 26, Quest Adventure service teams from five schools traveled to Pinnacle Leadership Center in New Hampshire for a full day of leadership, team-building, challenge and fun!
Students and teachers from Mary Lyon Pilot High School, West Roxbury Academy, Dearborn STEM Academy, John D. O'Bryant High School and Madison Park High School got to make new friends and connections from different schools while exploring their own abilities and limits. The amazing staff at Pinnacle Leadership Center led service teams in engaging activities and icebreakers, pushing teams to become closer, more communicative and challenge their comfort zones.  
The teams then took to the trees, reaching new heights by supporting each other while pairs completed challenges on ropes courses. Strategizing and communicating while suspended in the air with only their teammates to hold them up, students and teachers gained a trust among each other which will continue to propel their teams forward in the coming year and on their service trips.
After testing their limits and communication (and some songs of encouragement heard throughout the woods), teams gathered together to strategize for the next few months of fundraising. Enjoying hot cocoa at the end of a full day outside, teams kept their energy and spirits up with fresh ideas that they were eager to take back to Boston to try out.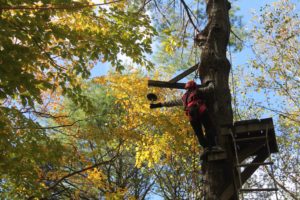 We're excited for how teams will shape the coming year, and look forward to successful fundraising and service trips! Thank you to our determined teams and the dedicated staff at Pinnacle!