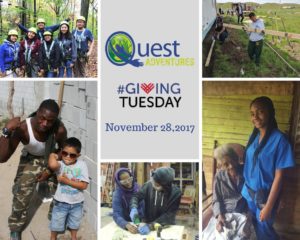 On this global day of giving, Facebook and the Bill & Melinda Gates Foundation are matching up to $2 million of funds raised on Facebook for U.S. nonprofits. Facebook is also waiving all fees for donations made to nonprofits on Facebook this #GivingTuesday. Make the most of this matching opportunity by leveraging the power of Facebook's charitable giving tools.
This year's Quest Teams will provide critical relief to vulnerable communities devastated by hurricanes in Puerto Rico, Houston, Costa Rica and New Orleans. When you support Quest, you help our students join recovery efforts where they are needed most.
For your gift to have the most impact, donate via THIS LINK to our Facebook Donations page between 8:00-10:00 am on Tuesday, November 28th!  Once on our Facebook page, click the donate button and fill in your information!
You will need a Facebook account to donate and have your donation matched! If you do not have a Facebook account, you can still donate through our website: www.questadventures.org/donate-now
Be sure to donate as early as you can!  Donations will only be matched up to the $2 million limit (which will be reached super fast)!  So get your giving in early this season and double your impact!
#GivingTuesday is a global day of giving fueled by the power of social media and collaboration. After Black Friday and Cyber Monday, #GivingTuesday is your chance to give back to the community organizations that you care about!  Read more about the global movemnet on the #GivingTuesday website!