"The faces of the students when they are working for someone else's benefit makes the Quest program rewarding.  You can simply watch their expressions change."
-Janayra Santiago, Boston Green Academy
Last week, Quest Adventures hosted a successful 2015 Educators Meeting for prospective teams! At the beautiful Boston Public Schools offices in Dudley Square, teachers from Boston Green Academy, Mary Lyon Pilot High School, Rafael Hernandez Middle School, and Margarita Muniz Academy met with our Executive Director, Claudia Bell to learn about this year's Quest trips and how to apply for next year!  These early birds are looking to apply by our June 25th Early Action Deadline!  Others will apply by October 2nd for our Regular Decision!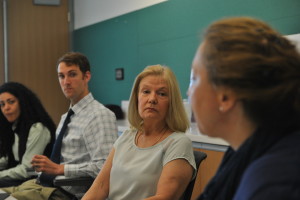 "Quest Adventures' programs bring students together more than you would otherwise get to experience with other travel opportunities."
-Bethany Wood, Boston Public Schools
If  you or a teacher you know is interested in applying for a Quest Adventures service-learning grant, view our application here!
To see what you missed at our Educators Meeting, check out our presentation!